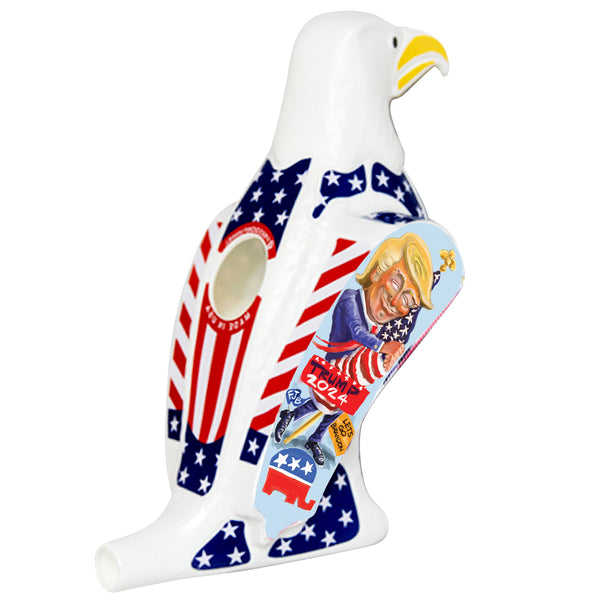 The presidential, eagle shaped beer bong that makes drinking great again
. Its the Trump train of beer delivery. Enjoy up to 60oz of freedom. 
🍻 The only eagle shaped beer bong. Patented. Perfect for beer olympics, spring break, boat and bachelorette parties.

🇺🇸 Made in USA. Robust washable plastic cavity. Decals are waterproof and UV resistant. 

🦅 Perches presidentially upright. 

🤠 Vortex pour for smooth and fastest delivery. Operates with one hand. Beak can be used as bottle opener. 

🎁 Unique novelty gift -  celebrating America, retirement or recently divorced? Freedom baby. Expected shipping in 7-10 days.

Expected shipping in 7-10 days.11.25"H x 7"W x 10"D
DEMAND AUTHORITY
Drink Patriotically
Chug beverages at records speeds
Holds up to 60 oz of fast flowing Freedom
The only eagle-shaped beer bong. Screams AMERICA.
Own Any Event
Get the people going at weddings, bachelorette parties, back yard BBQ, etc.
Presidential Bar Decor
Perches Proudly upright as a piece of art for your bookshelf or man cave
Perfect Gift
Great gift for White Elephant gift exchange, Secret Santa and gag gift.
Congratulate Freedom - retirement, divorces, and breakups.
Most customers get chills from their first taste of FREEDOM
TO USE
Crack can with the beak (Video below).
Pour beverage in back and fill cavity of the eagle.
Tip back and let freedom flow from tail feather.
BUILT TO LAST
Made in USA
Manufactured in Ohio. Fulfilled in New Orleans. Headquartered in Buffalo, NY.
Washable
Rinse with soap and water after each use.
Made from HDPE food grade plastic.
Space Age Technology
Embedded cavities to protect the waterproof and UV resistant decals.
Feathered etching throughout the body for detailed texture.
Perfect Size
Demands authority with its presents yet is small enough to be mobile.
Customer Reviews
Matty

United States
11/22/2023
Hi
Hopefully my come in soon
steven m.

United States
11/02/2023
Trump freedom funnel
Those things work great I used them on tick tock all the time get some criticize them about it because it's about Trump but it's fine I love them
Zachary O.

United States
08/07/2023
Love it!
Love the design and how much it can hold
Ben Y.

United States
03/09/2023
The best thing
percent I'm getting 2 more
Paul D.

United States
11/18/2022
Not happy!
Never received my order.