America's Freedom Funnel - Eagle Shaped Beer Bong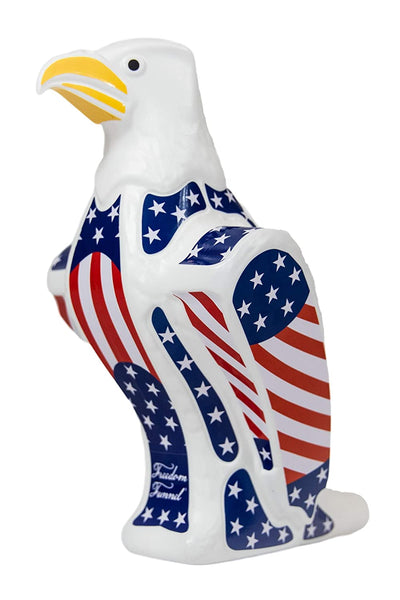 America's Freedom Funnel - Eagle Shaped Beer Bong
Introducing the Freedom Funnel: Unleash the Spirit of Freedom in Every Sip!
🇺🇸 Proudly Made in the USA, the Freedom Funnel is more than just a beer bong – it's a celebration of everything American. Crafted in the shape of a majestic eagle and adorned with the stars and stripes of the American flag, this unique, patented beer bong is the ultimate embodiment of patriotism and partying.
🍻 Experience Fast-Flowing Freedom: With the Freedom Funnel, you'll experience the thrill of drinking freedom at an incredible speed. Its beak is specially designed to crack open cans, making it quick and easy to fill the eagle's cavity with your favorite beverage. Get ready for a smooth, rapid pour that lets you enjoy up to 60oz of your chosen drink!
🦅 Presidential Perch: Stand tall and proud as you toast to liberty! The Freedom Funnel perches upright like a true symbol of freedom, adding an eye-catching centerpiece to any gathering. Perfect for beer olympics, spring break, boat parties, bachelorette celebrations, and any occasion where fun and freedom come together.
🤠 Vortex Pour for Smooth Delivery: Operating the Freedom Funnel is a breeze – literally! Its innovative vortex pour ensures a smooth and lightning-fast delivery of your drink. Plus, you can easily operate it with one hand, leaving your other hand free to salute the red, white, and blue.
🍻 Multi-Functional Beak: The beak of the eagle-shaped beer bong doubles as a convenient bottle opener, adding another layer of utility to this one-of-a-kind party accessory.
🎁 The Ultimate Novelty Gift: Looking for a unique gift that celebrates America, retirement, or newfound freedom? Look no further! The Freedom Funnel is a conversation starter and a guaranteed hit at any party. It's a perfect gift for patriotic souls or anyone who appreciates the joy of a good time.
🌊 Built to Last: The Freedom Funnel is constructed with robust, washable plastic, ensuring it can withstand even the most spirited celebrations. The waterproof and UV-resistant decals preserve its stunning American flag design for years to come.
🚀 Fast Shipping: We know you're eager to party, so we ship the Freedom Funnel the next day after your order, ensuring it reaches your doorstep in no time.
Raise your glasses and celebrate freedom like never before with the only eagle-shaped beer bong that captures the essence of the American spirit. Get your Freedom Funnel today and let the good times soar! 🦅🍻🇺🇸
"Freedom in the Front, Party in the Back!"
DEMAND AUTHORITY
Drink Patriotically
Chug beverages at records speeds
Holds up to 60 oz of fast flowing Freedom
The only eagle-shaped beer bong. Screams AMERICA.
Own Any Event
Get the people going at weddings, bachelorette parties, back yard BBQ, etc.
Presidential Bar Decor
Perches Proudly upright as a piece of art for your bookshelf or man cave
Perfect Gift
Great gift for White Elephant gift exchange, Secret Santa and gag gift.
Congratulate Freedom - retirement, divorces, and breakups.
Most customers get chills from their first taste of FREEDOM
TO USE
Crack can with the beak (Video below).
Pour beverage in back and fill cavity of the eagle.
Tip back and let freedom flow from tail feather.
BUILT TO LAST
Made in USA
Manufactured in Ohio. Fulfilled in New Orleans. Headquartered in Buffalo, NY.
Washable
Rinse with soap and water after each use.
Made from HDPE food grade plastic.
Space Age Technology
Embedded cavities to protect the waterproof and UV resistant decals.
Feathered etching throughout the body for detailed texture.
Perfect Size
Demands authority with its presents yet is small enough to be mobile.
Customer Reviews
Christopher S.

United States
11/06/2023
America rocks
Beers and bald eagles
brad t.

United States
11/02/2023
More American than Baseball or Apple pie!
Incredible. I presented this little slice of American pie to a college tailgate bonanza. The boys (of course) went crazy for it. The girls thought, since it was about Freedom - then guzzling a beer was made palatable. Much better asthetic than a oil funnel and a clear plastic hose! I would send videos, but I dont where to attach or send.
Chris P.

United States
08/01/2023
Awesome
Amazing love it going to buy another I wish you could add custom stickers
Lesley D.

United States
06/02/2023
Love it
Amazing just what we wanted
Denny M.

United States
05/01/2023
So much freedom
So smooth! Way better than shotgunning after having to cut into aluminum. The freedom of NOT having foam down your throat with a smooth beer bong is the American way.